Campfire Curriculums™ units are units that:
*Cover your core school subjects, as desired (elementary to university-aspiring high school students)
*Act as elective or extracurricular, as desired (skip the Core Connections)
*Are for all ages (pre-reader to adult)
*Provide job shadowing equivalents from home
*Teach life skills from home
*Provide a WHOLE family style of learning (where all ages can come together and learn together–no bouncing back and forth between kids!) or independent learning (your choice)
*Provide opportunities for "Dad" to join in (if desired)
*Are prepped, open-and-go packages
*Made after actually receiving professional insight from experts IN THE FIELD (such a unique aspect that is not provided anywhere else)…
*Utilize all learning styles and a whole person approach to teaching
*Emphasize cross-curricular and interdisciplinary learning
*Reignite passion in learning
Campfire units are ALL of these things together. Campfire Curriculums™ provides something that doesn't exist anywhere else. The depth of content included, the passion and JOY that is reignited in your homeschool… it is like no other. These are created to use as an all-in-one core (except math) with our Core Connections -OR- you can use them as an extracurricular/one subject only (without the Core Connections Companion).
Even with all of this included, we believe in keeping the units on a constant sale, year-round, to be as affordable as possible for as many families as we can.
NEWEST RELEASE
UNIT FOCUS EXAMPLES:

Awards
2023 EDUCATIONAL CHOICE AWARDS
*FIRST PLACE*
Unit studies – 1st place
Faith based curriculum – 1st place
Music Education – 1st place (re: Caroling Noel unit)
Life Skills – 1st Place
2023 BACK TO HOMESCHOOL AWARDS
Multiple Subject All-in-One – 3rd Place
Social Studies/History – 3rd Place
Christian Homeschool Curriculum – 3rd Place
Homeschool.com includes more choices than any other voting site for homeschool curriculum. We are so honored that among SO many, we have won first place in 2023!
2022 PRACTICAL HOMESCHOOLING READER AWARDS
*FIRST PLACE*
Domestic Science – 1st place
Real Life Skills – 1st place
Unit Studies – 2nd place
Practical Homeschooling Magazine Awards are the highest honor the home school community can offer. Out of SO MANY choices, Campfire Curriculums has been voted the best! The awards issued are the best and only way to easily find out what thousands of your fellow homeschoolers actually recommend as "the best." Thank you so much for making Campfire Curriculums top voted in Unit Studies, domestic science, and real life skills!
2022 BACK TO HOMESCHOOL AWARDS
*FIRST PLACE*
Homeschool.com includes more choices than any other voting site for homeschool curriculum. We are so honored that among SO many, we have been nominated and also won and ranked among the highest on their annual Back to School Awards!

Everyone knows Cathy Duffy is often called the "end-all, be-all" of homeschool curriculum, since she's been doing it for 40 years! We are so grateful she chose to review and detail our curriculum! Here are some of the AMAZING nuggets we pulled from her remarks, as can be found on her website
– "I found the units that I examined for this review to be very interesting, often containing information new to me…"
– "Each lesson begins with information presented in a living book format–like conversations or storytelling rather than a textbook."
– "The open-and-go design of Campfire Curriculums makes it easy for dads to be involved."
– "There's an adventurous spirit behind these studies."
– "Think Tank [included in each lesson] raises problematic ethical issues and personal applications that are likely to provoke great discussions…"
– "Scattered in various places within the lessons are 'Cool Teacher Moments,' which are simple experiments, demonstrations, or activities designed to grab the interest of students…"
– "The information is presented in a very engaging fashion with stories, thought-provoking questions, and fascinating facts. Instead of completing worksheets, students respond with discussion, research, writing, projects, and presentations (including public speaking)."
– "For language arts, each unit study focuses primarily on one or a few area. For instance, the primary focus of Through the Eyes of A Storm Chaser and Meteorologist is public speaking. In the Season of Independence Day, literature-based writing, grammar, and copywork all receive attention. And Through the Eyes of A Volcanologist teaches how to write a persuasive essay…"
– "Developing self sufficiency is another recurring theme that shows up in some of the studies…"
– "Campfire Curriculums offer unusual topics in a format that allows the whole family, including dads, to learn together…"
Unit Overview
Download our pamphlet HERE for each unit's focus in science/history/language arts/extracurricular/etc,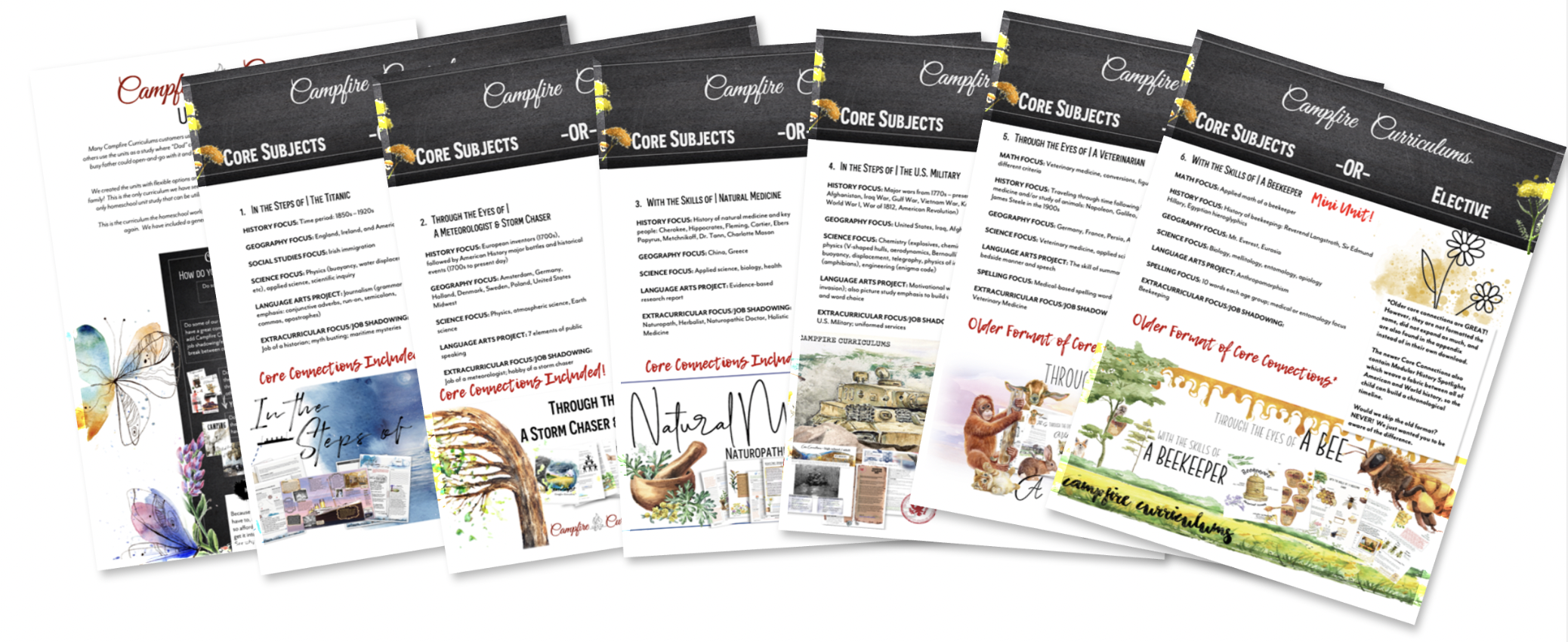 © 2023. All Rights Reserved