HOW THE 2021 JOURNALS ARE COLOR-CODED AND CAN BE PRINTED
All black fonts, main lessons, and activities match in the elementary – adult journals. This allows for a seamless flow and out-loud reading between the whole family.

PLEASE READ THIS: Every person gets their "nuggets" of extra information within their journal in the form of a different-colored font, appropriate to age. Think of reading the Bible out loud together as a family, each person with his/her own Bible. The "adult" Bible commentary bubble would be ADVANCED concepts (often in a different box or color), where the "middle school" commentary would have cute and age-appropriate KID concepts (in a different box or color). While the commentary is different in each Bible, all of the Bible verses would be the same. That's the same concept in our color-coded journals. Often, our "commentary" appears at the end of a paragraph to help with understanding or expanding upon that particular topic. Older-age journals also often contain intense information not be suitable for younger children (IE: graphic details of Pompeii). All journals have an intentional layout and timing, to allow a seamless flow between journals

. Each person can choose to read his/her specific font colors/boxes as the lesson moves along, or he/she can wait until a later time and read them independently. It's adjustable, just like in our Bible commentary example above!
All SYW pages (Skip if You Want/aka "going deeper") pages are optional and different in each journal; more info below.
Core Connections are also unique and different for each journal.
If desiring to print, you can print off the appropriate age level for your children and yourself (or you can screen cast and save on paper/ink).
Can you all share one journal, just as you could all share one Bible? YEP! Is that ideal? Probably not because each person would miss his/her special "commentary" and extra information for their age group… but it's definitely doable this way. Customize it however best fits

your

family!
The Pre-Reader journals are unique for the youngest of learners and have to be printed separately. They still perfectly tie into the lessons and are to be used alongside the older members in the family.
We are in no way comparing our curriculum to the Bible (re: Bible commentary example). We just thought it provided a good example of what we were trying to convey. 🙂
Here are some examples.
[swipe sideways to see comparisons]
First, notice how the boxes with the

green

font have different information, while all black font matches.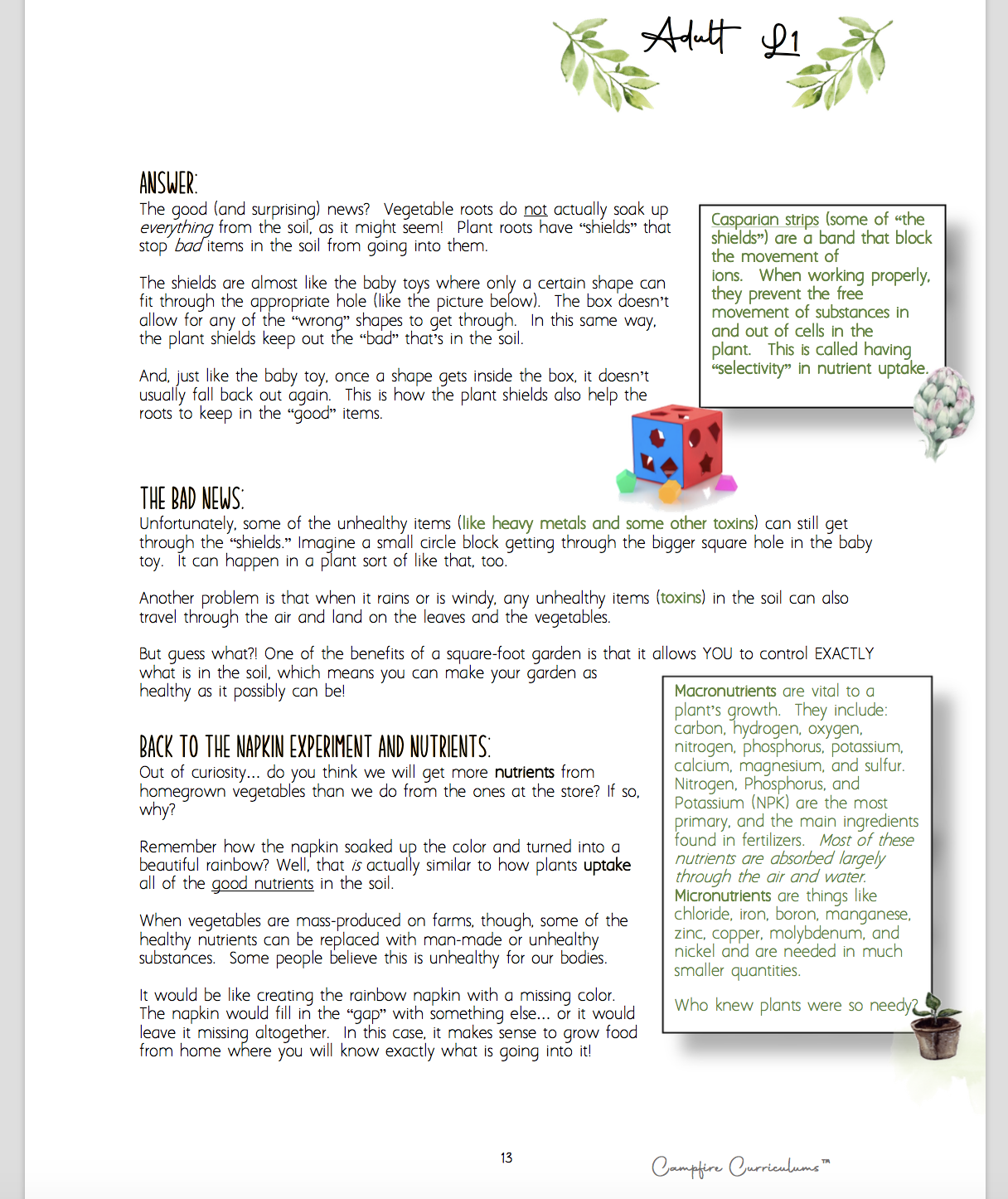 Jane Samson
ADULT JOURNAL : GARDENING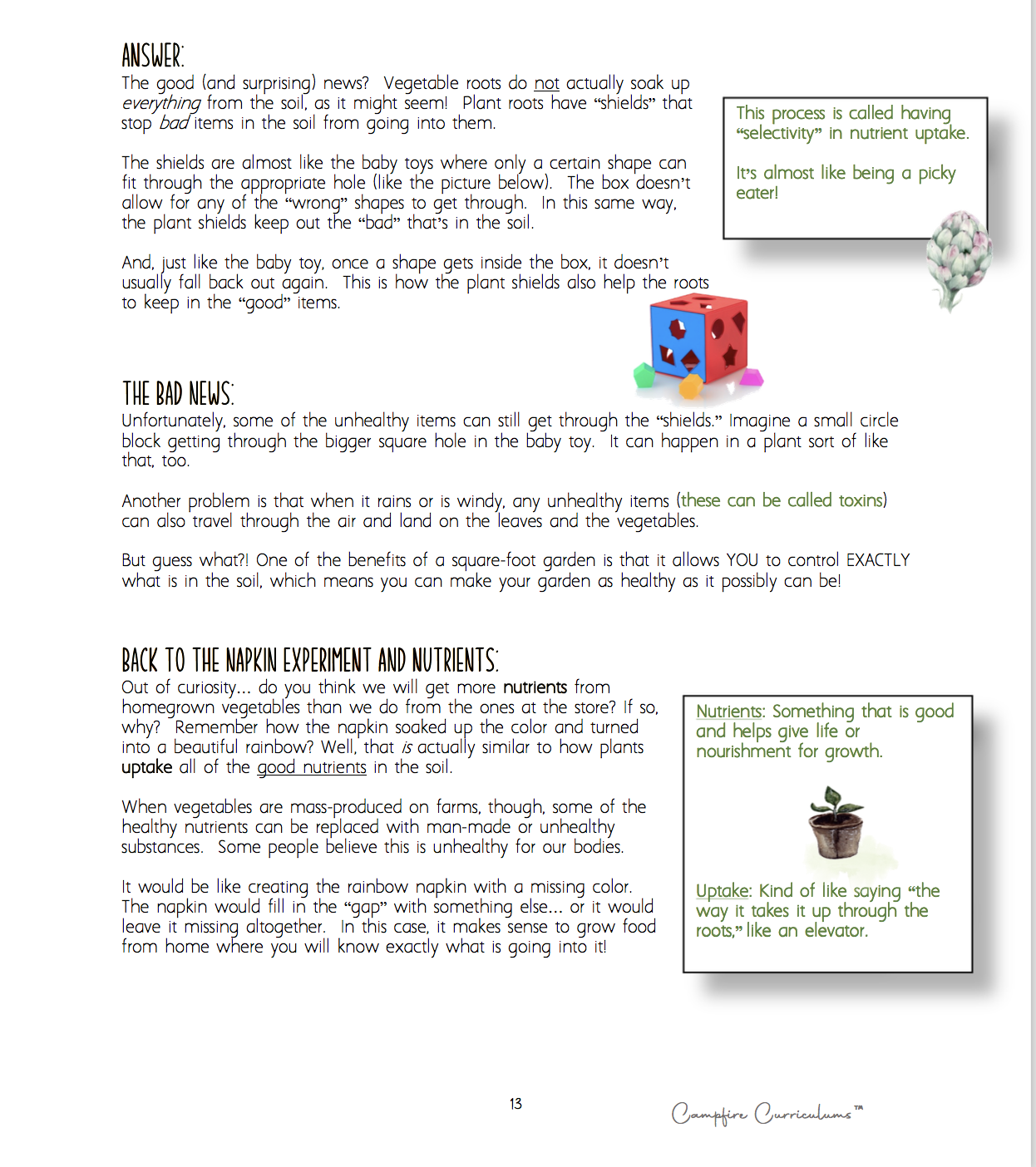 John Carson
ELEMENTARY JOURNAL GARDENING
Separately, notice how there are a couple of words throughout the paragraphs (in parentheses) that are in green font and not to be read out loud.

IE – ADULT Paragraph 4: if you read "heavy metals" out loud to an 8 year old, they would likely get confused, but an adult or high school student needs to know this information

Notice how the ELEMENTARY journal has small green font around the same paragraph that helps the younger student to understand in

his/her own

terminology
HERE IS ANOTHER EXAMPLE [IN THE SEASON OF | RESURRECTION DAY]
[swipe sideways to see comparison]

Jane Samson
ADVANCED LEARNER : RESURRECTION DAY

John Carson
GROWING LEARNER: RESURRECTION DAY
First, notice how in the ADVANCED LEARNER journal, we include historical details that are important for older students to understand (such as the geographical areas and the Emperor's name).

However, if read out loud to an elementary or middle school student, they would begin to glaze over and get lost in the names/locations.
Therefore, these details are in green font (to be read silently) for "extra information" for the older students.
The black font can still be read out loud seamlessly between all journals.
Here are some examples of different SYW pages.
SYW (Skip if You Want) pages are completely optional pages, included for independent or further study for that person. They are at the end of every lesson in our full units. They are different in every age group.
See the 3 examples below [swipe sideways to see comparison] :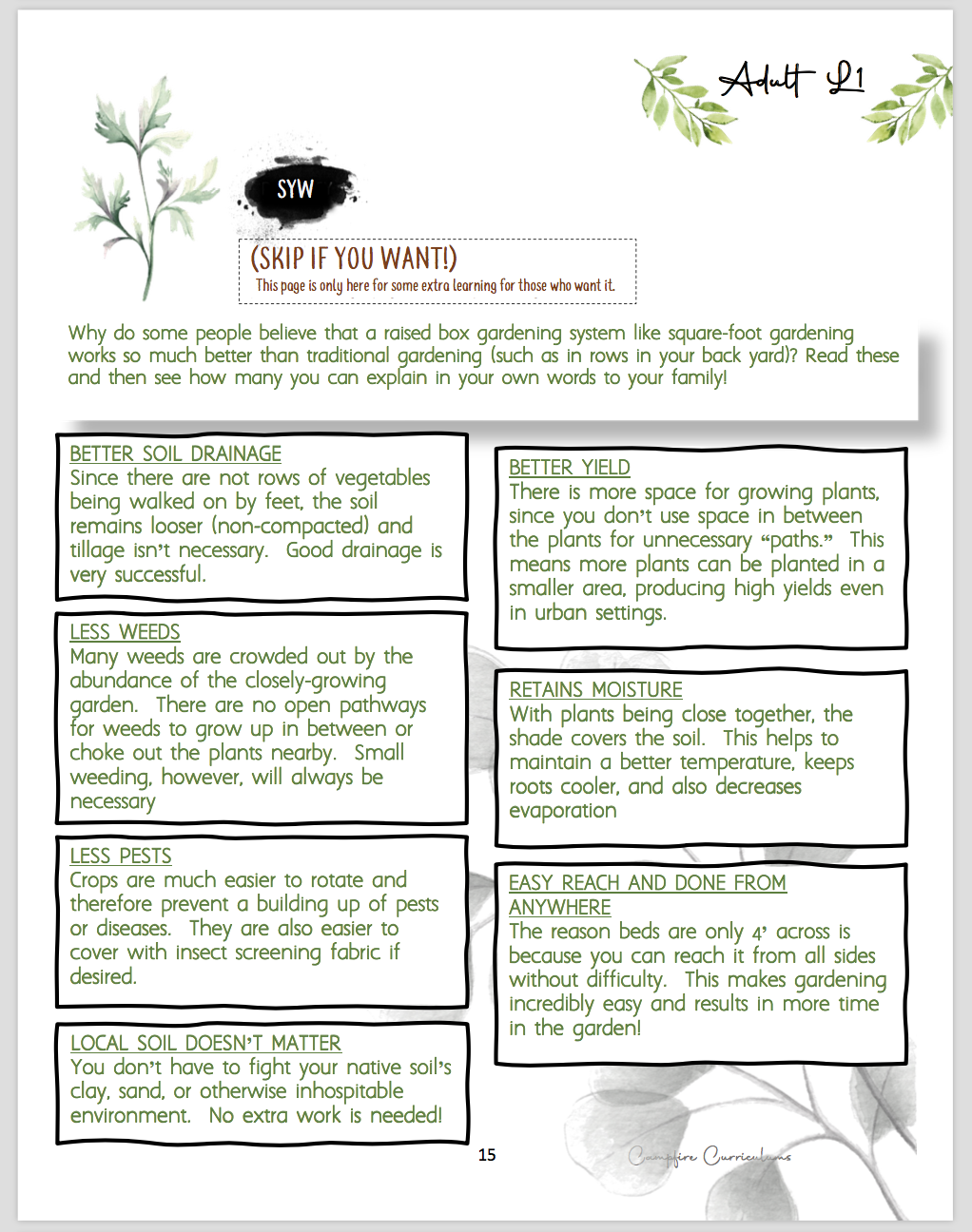 Jane Samson
ADULT JOURNAL SYW: GARDENING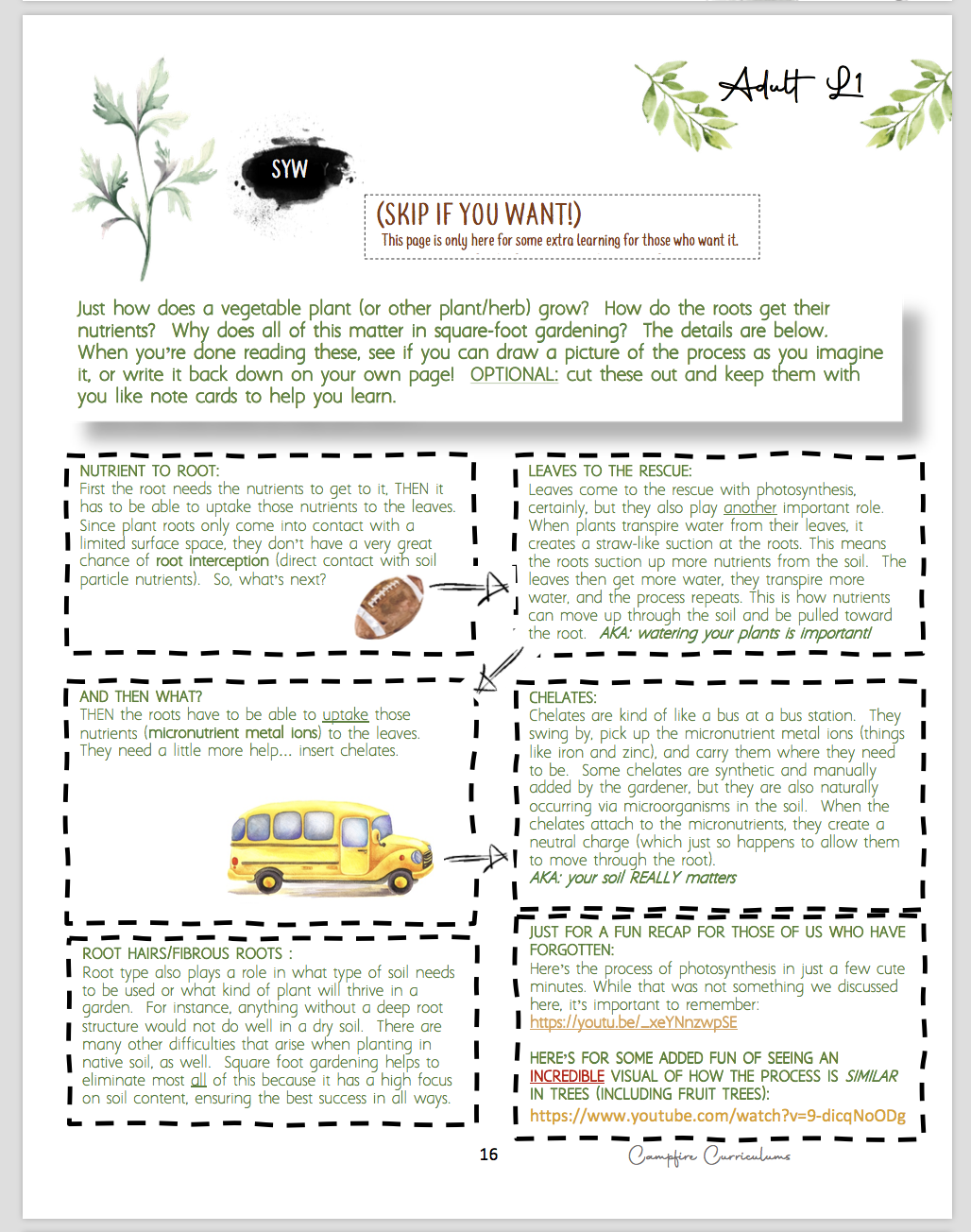 John Carson
ADULT JOURNAL SYW PG2: GARDENING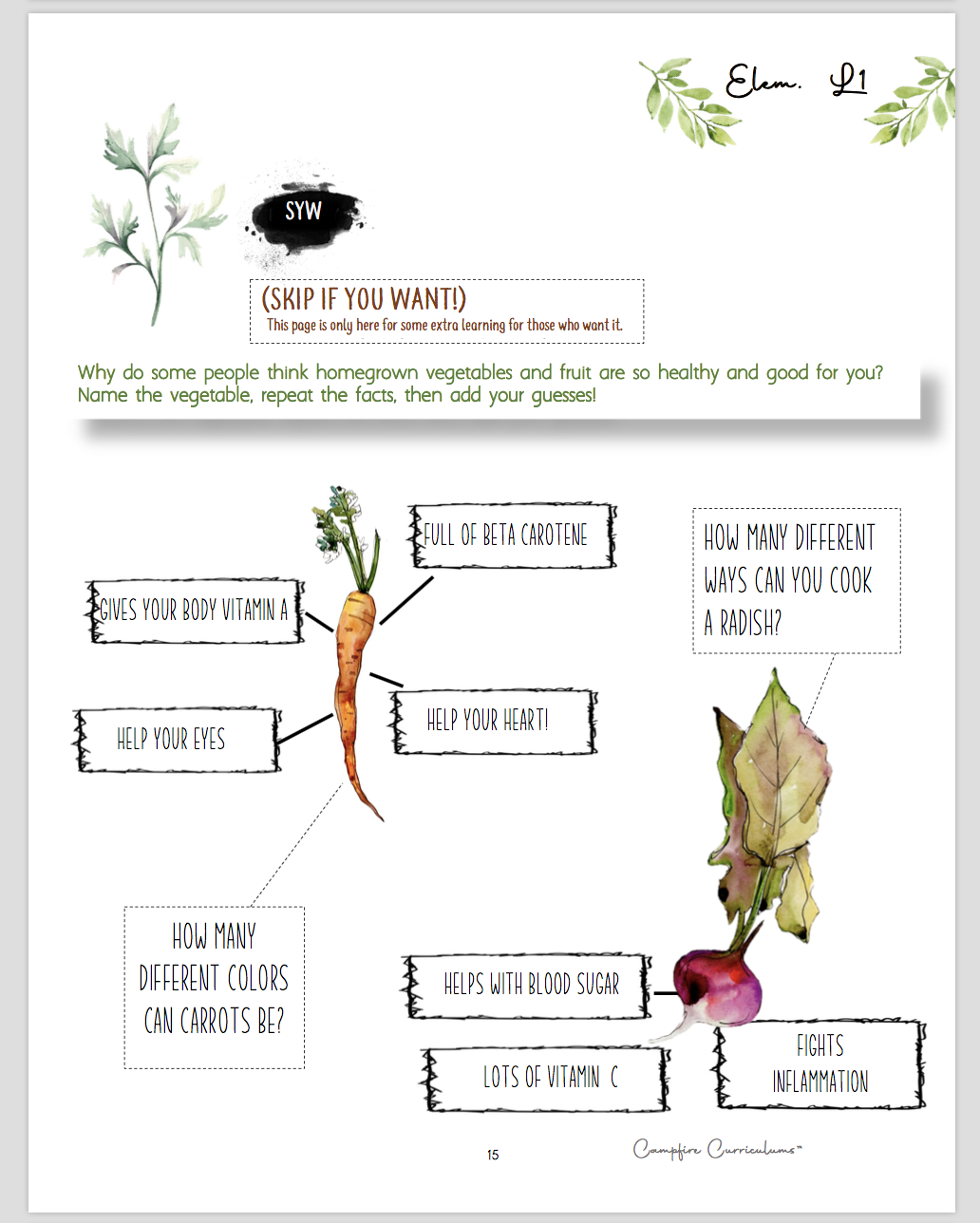 John Carson
ELEMENTARY JOURNAL SYW: GARDENING
WANT THE AUDIO EXPLANATION? GO HERE