How to check your sources… Campfire's stance on sourcing…
This is an overview of Campfire's stance on sourcing! While this is textbook (or school book) specific, the same criteria and information can be applied to all–history, news, books, reports, biographies, etc. When is it okay to use certain sources and when is it not? What is wrong with encyclopedias? Should you use History .com or other such sources? What are validated secondary sources vs. tertiary sources? All your questions are addressed below!
WHAT ABOUT WHEN THE TEXTBOOKS DON'T LIST ANY SOURCES? **THIS IS KEY FOR THE REST OF THE QUESTIONS**
WHAT ABOUT USING NEWS SOURCES FOR CURRENT EVENTS?
WHAT ABOUT USING NEWS SOURCES TO SHOW CONTRASTING OPINIONS?
WHAT ABOUT USING NEWS SOURCES FROM HISTORY?
BUT AREN'T PRIMARY SOURCES WRONG, A LOT OF TIMES?
WHAT'S WRONG WITH ENCYCLOPEDIAS?
WHAT ARE GOOD PRIMARY AND SECONDARY SOURCES THEN?
BUT MY SCHOOL GROWING UP TAUGHT ME FLAWED HISTORY! SO WHAT'S THE BIG DEAL?!
BUT AREN'T .GOV AND .EDU LIBERAL AND PROGRESSIVE? WHAT DO WE DO WITH THOSE KINDS OF SOURCES?
WHY DO THEY ALL LIST IT DIFFERENTLY, AND WHAT ABOUT…..?
WHAT ABOUT WHEN THE TEXTBOOKS DON'T LIST ANY SOURCES? ARE THEY STILL GOOD TO USE?
NO SOURCES LISTED!
You might find when you use certain curricula, some of them don't even list sources in the back of the book or anywhere else. Why is this? This is because there are a few different kinds of curricula.
1 – There are the kinds that have "official publishers" and/or professionals in the field actually doing the writing. For example, an actual chemist (or chemists) might write the book on chemistry. The sources are not listed, but the authors' names and possibly credentials are. It would be like going to a mechanic and asking, "What is a timing belt?" or "What is power steering fluid?" You trust what he or she tells you because they are the expert. On the contrary, if you walk to your next door neighbor and ask the same question, you might want to double check their answer against a more reliable source. Two neighbors might even tell you contradictory things. Just like that, some curricula is written by the experts, themselves. If a group of mechanics are writing a mechanic's handbook, they don't often list other sources.
2 – Independent publishers of curriculum who are producing content on materials for which they are not professionals or experts. These kind of curricula include their sources for verification (just like you would expect your neighbor to do if he was writing a mechanic's book and wasn't a mechanic).
3- Independent publishers of curriculum who are producing content on materials for which they are not professionals or experts, but they consult professionals or experts. This is like Campfire. Since the professionals and experts we consult are not doing any of the actual writing of the curriculum (rather, we are job shadowing them and then doing the writing ourselves), they do NOT officially get to qualify as an "official source." For that purpose, we still need to cite additional sources for customers. We are required to find additional supporting documentation from other primary or secondary sources that the customers themselves can verify, and we do not publish facts unless we can do so.
ANOTHER POSSIBILITY:
Another possibility is that the textbook or curriculum is published through an official publisher (which is supposed to have extremely stringent quality control). The textbooks that come from these sources are typically going to be using primary and secondary sources because to do anything else would go against the industry standard and should not pass quality control. Anyone can be the author of this kind of curriculum, but most consumers are putting their trust in the publishing company to have required the official fact checking and approvals. This is especially true with long-standing companies with good reputations. The faith that the consumer is supposed to have in this instance (whether you choose to or not) is in the publishing company and industry standards. These go through many different verification points in an official and unbiased way, so they are automatically a higher standard (or are supposed to be, anyway). Does this mean you want to trust this kind of setup? That depends, and it is ultimately up to the parent to decide.
HERE IS THE ANALOGY THAT MATTERS:
If Chevy or Ford comes out with a new truck, you're likely not going to quiz them on where they got every single part and who put the truck together. You trust it and accept it because it's a professional company that goes through a lot of quality control. You can quickly check how they passed the crash safety tests, etc. Now, you might laugh a bit and say, "Ford is awful! I'll never buy a Ford. Their engines are ….." Or you might say, "I love Ford! They are the greatest trucks ever built!" Same for Chevy. Still, no one really goes around questioning who put the trucks together or if they are going to break in half as you drive down the road. Is it possible? Yes. But just like you trust a chair to hold you up when you sit in it, people are more inclined to trust a well-known and well-vetted company when it comes to automobile manufacturing.
On the contrary, if someone from your neighborhood began making his own vehicles and selling them independently without any oversight, you might NEED to ask more questions. "How did you make sure XYZ was safe? What did you use for the brakes? Where did you get the brake pads?" In this instance, the person needs to detail it all out.
This same analogy is true for different educational resources.
WHAT ABOUT USING NEWS SOURCES FOR CURRENT EVENTS?
This is absolutely okay! In this instance, they can often be used as a primary source. Granted, one must weigh bias. But let's take a look at an example…
If the news is discussing how different states have different mask mandates or reporting on the active shooting that is happening, that is a current event. It is appropriate to use a news source in this instance (weighing bias, of course).
It is very important, however, to verify that these sources are ACTUALLY being used for current events… and not just presumed to be.
For example, if you find a lesson that is teaching on former President George W. Bush and weapons of mass destruction (a matter of debate in history, and a large part of historical conversation), what kind of source should one want to use? The answer is typically primary sources or validated secondary sources–the actual government documents, presidential claims (speeches), reports that compare/contrast the two sides (official reports from the declassified documents) and the like.
On the contrary, one should NOT want to use an opinion blog that was written by an opinion blogger years after the event, in 2015 (not a historian). If an opinion blogger wrote, How George Bush Discovered Weapons of Mass Destruction Years Ago, then this is not an appropriate source to use for educational material… especially not for such an important topic, and especially when it is not primary or secondary. This is merely an opinion blogger writing his "facts" of how he sees the past. That is not an accurate source for a history book re-telling history and teaching it to children. This is an individual with an opinion.
Now, if you believe news sources are only used for current events, you can do a simple check. Go into the lesson or part of the book you are referencing and see what it's teaching. Is it teaching on a current event , or is it more like the scenario above where it is teaching about a historical event? These are just some of many questions to ask yourself.
Is the lesson teaching on the past Cold War? World War I? The ins and outs of the Persian Gulf War? The beginning of the Civil War? The timeline of the Earthquake in Nepal? Columbine? Or is it teaching on a truly current event? This is what can determine if a news source is appropriate for a reference. So if you want to, you can check such claims.
WHAT ABOUT USING NEWS SOURCES TO SHOW CONTRASTING OPINIONS?
This is also okay! Usually, you would use a liberal source and a conservative source to compare and contrast.
Also, if you want to discuss how a particular region feels about a baseball team or local restaurant's menu, that can be okay!
However, someone may still want to check to see if such a news source is actually being used for that purpose. For example, look at the following paragraph:
A lot of people thought that President Kennedy was not fit to be a president because of suspicions with Marilyn Monroe. First, he did this. Then he did that. Then, his senior advisor told him "[Direct Quote here]" which he ignored and did XYZ instead. After all of this, the court system decided XYZ, and this was the ultimate outcome.

This is an example of a paragraph that is not utilized for opinion or showing contrasting views, but for historical events. The very first sentence shows an opinion about whether some people felt he'd still make a good president. However, the rest of the paragraph of events is filled with different facts: first he did this, then he did that... Those are sentences used to detail the events of what happened.
Compare with this kind of a paragraph:
A lot of people thought that President Kennedy was not fit to be a president because of suspicions with Marilyn Monroe. A few people said they thought he might have been doing XYZ. Others argued the point and said he wasn't doing anything wrong. It caused a lot of debate in the White House!

One of these paragraphs is a true "opinion" paragraph (the latter), where the other (the one with the quote and other events listed) is not. The opinion paragraph can reference opinions from newspapers, but the other should not use a newspaper as its source.
So while it is certainly okay to use news sources as a compare/contrast to show varying opinions, you must ask yourself: "Is that how the news source was actually used? Or, was it not?" If you are interested, check for yourself how the news source was used, and then make your own determination.
WHAT ABOUT USING NEWS SOURCES FROM HISTORY OR TIMES IN THE PAST?
This is okay, too! In this instance they can be used as a primary source. For example, if a journalist was present during a prior tragic active shooting and filmed the heartbreaking aftermath or detailed it as it happened, the journalist is considered as if a first-hand witness. Or, for example, imagine a news reporter was reporting in the area at the time of the earthquake in Nepal, writing down what happened, as it happened. Or, if someone was present during a presidential speech and wrote it down, in the moment, word-for-word. The date of their news report matches the date of the event, and they are acting as a first-hand witness to it. This is okay to reference (bias can still be weighed, when needed). The same is true even if you go back to the 1600s and see the words that people were writing down as to what happened that week. It's a good "timestamp in history." This is different than a journalist today writing an article about "What happened in the 1600s" from his or her opinion of the facts.
Consider, though, that even in these instances there may be mistakes, so that can be addressed by curricula makers, book authors, and those writing research reports. Consider the Titanic news sources that initially reported that every passenger died, or that every passenger survived. These were written at the right time (as the tragedy happened) but obviously include inaccurate statements. So, educational resources need to cross-reference other sources and not merely claim, "All the Titanic passengers survived" based on a news report.
BUT AREN'T EVEN PRIMARY SOURCES WRONG A LOT OF TIMES?
YES! Primary sources are like people who were actually there and witnessed it (like eye-witnesses at a crime scene) or artifacts that were present at the time (such as old pottery that existed in that time period in history). Validated secondary sources are one step removed (imagine a detective studying a cold case or an expert in pottery who analyzes the finding). Now, primary sources can be wrong. Imagine the Titanic… the primary sources would be things like the survivors' actual testimony. But didn't the testimony conflict? It did, in many instances! Still, the survivors are the BEST sources to reference BECAUSE THEY WERE THERE… even if you have to reference the discrepancies from one person to the next. To use something else besides the primary source in this instance would be like using the survivors' aunt's friend's brother's grandma's opinion on what the survivor said.
If you're already starting with shaky data (conflicting testimony of the survivors), the LAST thing you want to do is use LESS than a primary source… by going to some distant relative for THEIR opinion, instead. That's like using a news report or opinion blog as if fact. The perfect example of this was seen in how the news sources accused Bruce Ismay of certain things that were directly contradicted by those in testimony. You don't want to use the news to tell you the truth–you want the primary source which would be those who witnessed his actions and heard his words during the sinking.
The survivors are one example of a primary source, but there are others, as well, including ship makers and more.
Primary doesn't mean it's going to be telling the whole truth. It means it's the closest thing you have to what happened. And, a lot of primary sources ARE confirmed by other primary sources (which is very helpful!). On the contrary, news sources (or gossip) can come along and twist it all up. That's why it's important to first go to the primary source whenever possible. It's not always possible, but if it is, it should certainly be used. If not, secondary sources should be sought after.
RISKS!
Imagine an official government document proclaims that those who are in the USA on travel visas are not allowed to vote in elections. Now, imagine that an entertainment source like YouTube or CNN (non-primary) inaccurately reported that the government document proclaimed AMERICANS are not allowed to vote in elections. WHOA! That's very inaccurate! Now imagine that this news or entertainment source's claim is repeated in a history curriculum (not stated as opinion, but as fact)! To repeat that in an educational curriculum would be so dangerous! The proper primary source should be the actual document–not YouTube or CNN.
This is why primary sources are so important. Reliable and valid secondary sources are also equally as important. More on this in a bit.
WHAT IS WRONG WITH ENCYCLOPEDIAS?
Nothing, when they are utilized appropriately! We will let others do the explaining for us. This is just a few of many examples, but you'll find the same sentiment across reputable colleges and universities.
–

– University of Winnepeg

– The College of New Jersey


– The College of New Jersey (con't)

– The College of New Jersey (con't)


– SE State College

-Southern New Hampshire University

– West Sound Academy
Such a source isn't recommended except as a "starting point for research" in a college essay, and the same is true for educational curriculum. Educational material teaching on important topics such as the War on Terrorism, The Civil War, Benjamin Franklin, Abe Lincoln, the Titanic, the original settlers, (or any other history) needs more than this.
Now, if an educational resource uses an encyclopedia as a "starting point" then parents can check the other supporting sources and see if they are okay with what is used, and if well-rounded research was truly done. Were the other supporting sources YouTube or Vimeo? Were they children's books? Were they movies? Were they CNN or a civil right's activist's website? OR were they other primary and secondary sources?
Furthermore, you can check… was there any supporting documentation? Were encyclopedias used for the first section of the lesson, where maybe a legitimate source (primary or secondary) was used for the second part of the lesson, and a news source (unreliable) was used for the third part of the lesson? While there are three sources listed for the entire lesson, there may be only ONE unreliable source for both the first and third sections.
For this reason, when you see a curriculum or book using encyclopedias as a reference, you may want to check and see: "What are the other reliable sources?"
Side note: every once in a while, you might find an encyclopedia article written by a primary source! This is rare, but it does happen. The same could even be true with Wikipedia! Just do a general count and see, "How many times was this source used in the curriculum?" Of that ______ times, how many were primary? It is usually very rare.
Side note on books: Be mindful… just because a "book" is a listed source does not mean it's an official book. You can do a quick google and see what book it is. In some instances, we have even seen elementary books (for enjoyable reads) used as a source for the life of Christopher Columbus or the details of George Washington (and the facts within the lesson were incorrect as a result). We have seen other books written by mystery writers or suspense authors (not historians) used as sources… So all we can encourage parents to do is CHECK THE SOURCES!
Yes, it takes work to check sources. But it's usually a 20-minute process. Do a quick glimpse, run a search on a couple of the items listed that seem suspicious, and compare a news source with the content in a historical lesson to see how it was applied. Create a mental tally of how often each type of source was used. Twenty minutes a month, and you can do it! Over time, you get a general "feel" for how a particular curriculum does things, and if it is in line with your desires as a part or not. Then, a random check every so often will help!
.
WHAT ABOUT HISTORY. COM?
History. com is considered an entertainment source by many. Again, we'll just leave this here….





There are some historians who have contributed to history. com from time to time, but the official authors and editors who write many of the pieces are not such, and there is not the same kind of peer review, cross referencing, or fact checking that are in true academic sources. Often, there is an overwhelming lack of official data quoted, as well as a lot of misinformation.
.
WHAT ARE GOOD PRIMARY AND SECONDARY SOURCES THEN?
Some good primary sources would be things like the actual declassified documents, or the actual investigation report. Here is a screen shot of some other ideas: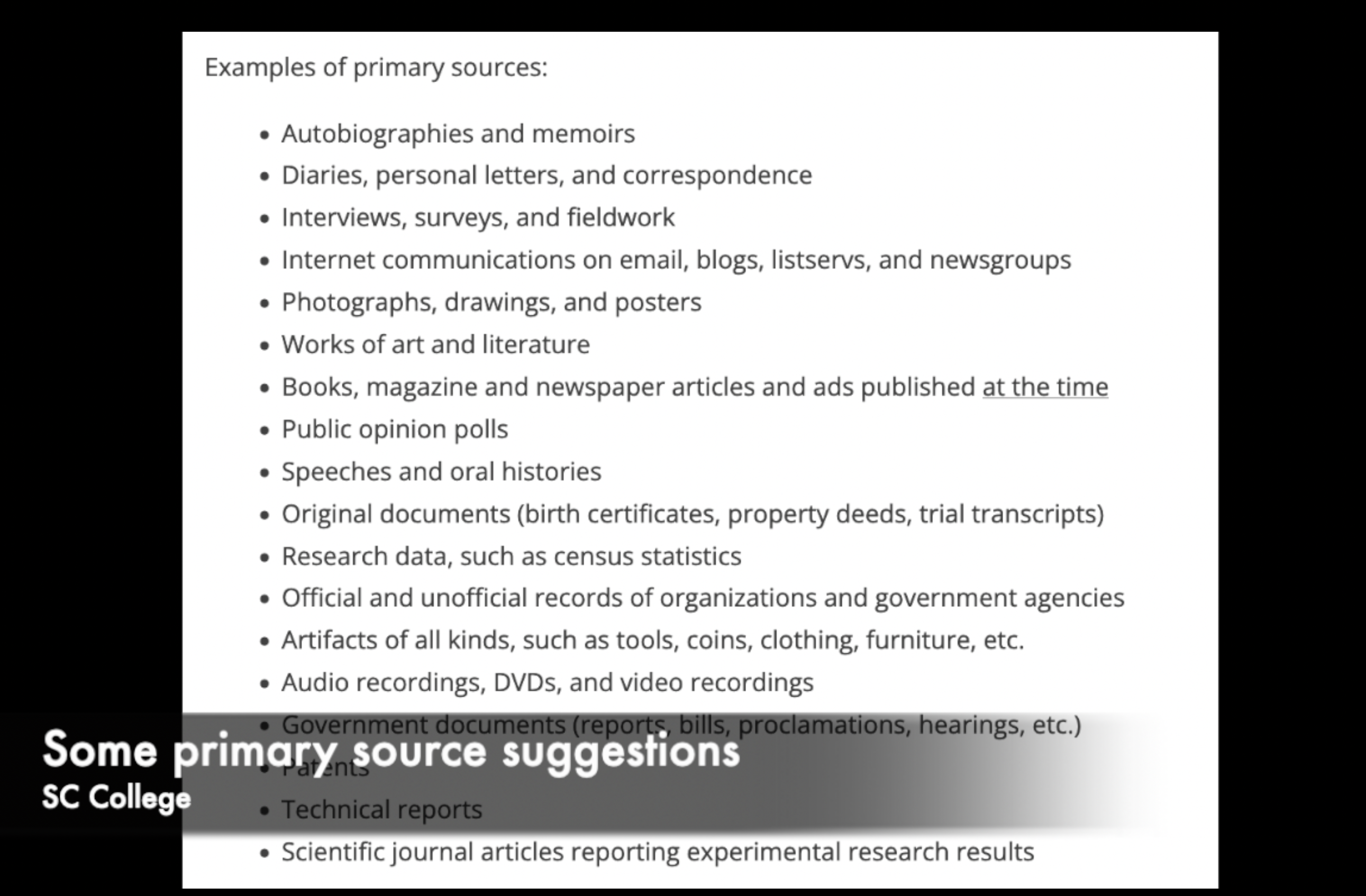 Secondary sources are also valuable! Secondary sources are one step removed from primary sources, but they often quote or directly reference primary sources. Imagine if a group of scholars are sitting around and discussing what an artifact means or says. The scholars write an article about their findings, and now the artifact can make sense to everyone else. The scholars are not the primary source (the artifact is), but their article is almost more valuable because they are able to provide precious insight. Sometimes, they are still considered a primary source, where others call them a secondary source. In any case, when validating any secondary sources, educational materials should be sure to pick ones that can be confirmed by others, as well. For example, a "documentary" is something that is allowed… but documentaries from entertainment sources (such as from history . com) are different than documentaries put together by actual historians. These are just a couple of many examples.
Secondary sources can also be things like textbooks, books and articles that carefully review or interpret research works, biographies, literary criticism, political analysis, etc. In other words, secondary sources offer analysis of primary sources. So you can check to see if they are reliable and are truly referencing the primary source with documentation.
Side note: many inaccurately presume that anything ending in ".org" is a reliable secondary source. Please be mindful that anyone can create a ".org." Even Wikipedia is .org. Any activist, opinionated person, or group of people in any movement can create a ".org."
.
WHAT ABOUT SINGULAR ERRORS?
We have always believed that all curricula, books, historical references, and more will have errors. That includes our own. It happens. The difference to ask yourself, if you ever feel concerned, is this: "Is this a single error because it was a typo or an accidental misunderstanding?" OR, "Are there multiple errors in content as a result of a bigger issue?"
Anyone can likely go to any curriculum or book they own right now and find an error in it. Campfire is no exception! Again, it's about looking at the overall picture and determining what is or isn't okay for your own family. Does the creator of such a product make every attempt to be as accurate as possible with the most official sources that can be found?
.
BUT MY PUBLIC SCHOOL TAUGHT ME INCORRECT THINGS, TOO!
1) It's going to happen. That doesn't mean one should embrace inaccuracies, just because someone else did it before.
2) Isn't that one of the reasons why we homeschool? Don't we want something better than what we had?
.
BUT AREN'T .GOV AND .EDU LIBERAL?
We should make it clear: .gov and .edu are not always primary sources. In fact, .edu is frequently a secondary source and sometimes neither primary nor secondary. Campfire does not believe that ".gov" and ".edu" are the only sources that should be used. So why is it sometimes better for a curriculum to use more ".gov" or ".edu" when verifying data in a textbook?
Well let's answer the question with a question:
What would you rather between the following: .gov (the official congressional document) and .edu (the actual scientists' research that contributed to NASA's space report) ….OR… CNN? NPR? The New York Times? In reality, they could all be sharing a progressive perspective, depending on the topic. Still, one is more authoritative and official than the other.
We personally aren't always going to agree with the sentiment of "primary sources." For example, when we job shadowed our volcanologists, most of them were of the belief that the Bible wasn't real and that God did not create the world. Obviously, for this purpose, we did not include their ideologies that dealt with that topic as if it was factual within the lessons. However, they are still the authoritative sources for "What kind of a volcano is this?" and "How is a pahoehoe lava flow different than an 'a'a lava flow?" For those facts, primary or secondary sources should be used (sometimes including .gov or .edu) and they should be prioritized over things like independent science sites, PBS, random videos, etc.
If you are interested in checking this concept or concerned about any progressive influence, you can always look at the context at HOW the .gov or .edu or primary source is used. It is used for agenda and to share left-wing ideology? Or, is it just used for a basic scientific or historical fact?
Usually, those that tend to use more .gov and .edu sites, or those who use college texts written by those in the field are going to be more committed to accuracy–NOT because of any liberal bias, but for the very reason we explained in our volcanologist example. Keep in mind, all bias has to be weighed regardless of where the source is derived.
.
WHY DO THEY ALL LIST IT DIFFERENTLY?
As we explained in the very first point of this post, a lot of curricula lists their sources differently.
Some don't list anything at the end or beginning of their textbook.
Some do it all throughout (for example, as you come upon a historical document, they include an image or description of it and a tiny memo in the bottom of where the information came from).
Some detail every single reference (from 'water is wet' to 'air has weight').
Others merely tell you that ALL information can be verified and proven true via NOAA.gov with some key terms.
Some have experts as the authors; some have homeschool parents. Etc, etc…
Each curriculum does it differently. Generally, as a rule of thumb, we recommend checking the overall types of sources used throughout. Where do they want you to fact check or where are most of their sources derived?
There are always going to be problems with everything out there–from primary sources to secondary to tertiary and more. There is nothing that is perfect in this world. There is only a base standard which is usually followed in the world of academia.
As a parent, this is where you get to decide where your base standard is! You get to take your own thoughts and feelings and apply them to what you want to teach your children! What standards do YOU have? What standards do YOU want? What are your OWN feelings? After all, this is homeschool. That's one of the amazing benefits! We encourage EVERYONE (always have, and always will) to use whatever is best for them.
In Sum:
1. Find a source page or author's credentials (or publisher's standards).
2. Look at the majority of what kind of sources are used.
3. If a typically unreliable source (independent website, news article, entertainment piece), was it used appropriately [opinion, compare/contrast, current event, etc].
4. If encyclopedias were used, were there sufficient supporting sources?
5. Determine how you feel about the sources or the author or publishing company as a whole.